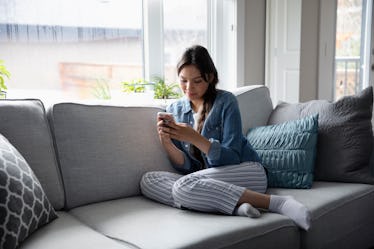 9 Rejection Texts To Send On Insta DM That Won't Get You Unfollowed
Have you ever had someone slide into your Instagram DMs? I can say with certainty that a few guys might have twisted their ankles with how much they've been sliding into mine. If you've been getting some people you're not interested in responding to your stories — or just sending a regular direct message — asking you to hang, you may be looking for some rejection texts to send on Instagram DM. Fortunately, you never have to be mean to someone who's asking you out (unless they're being inappropriate and you feel like you'd like to, in which case, go ahead), and I've crafted a set of rejections that are as polite and clear as possible.
It can be disconcerting to receive an Instagram DM. I personally have been feeling like I'm getting messages from way too many places — Instagram, Twitter, Facebook, LinkedIn, and, occasionally, even text messages (retro, right?). I don't love that people I don't know can contact me, but I also create content that I want the world to see, and you might be doing the same. Whether your DM is coming from someone you know or someone you've never met, I got you covered when it comes to sending a nice let-down message. Also remember that if you don't know someone (or even if you do), it's always OK to ignore an Instagram message.
Read on to find nine rejections to send over Insta, because a little guidance never hurt.