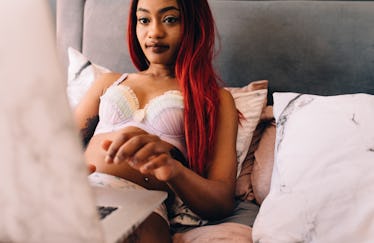 9 Pictures To Send Your Hookup On Valentine's Day, Because A Picture Is Worth A Thousand Words
For some odd reason, most stores still don't sell Valentine's Day cards for your casual hookup or FWB. When you have a steady make out buddy or a running booty call, it can be hard to know the appropriate way to ring in Feb. 14. If you're balling on a budget or just trying to keep it low-key — sending sexy, sultry, or even cutesy pictures to send your hookup on Valentine's Day can be the perfect balance of thoughtful, flirty, and yet totally chill.
Celebrating Valentine's when you haven't DTR can be everything from silly to stressful. If you've been hit by Cupid's arrow, but are still keeping it #casual, Feb. 14 can be a day to turn up the heat. Of course, if you and your boo haven't ventured into swapping sexy snaps, you may want to ease your way in. Talking in person about the role of sexy texting can help establish healthy boundaries to keep everyone feeling sexy and safe. Being clear with yourself and your boo on your intentions in sending flirty photos can keep the lines of conversation open as you feel yourself.
Here are nine ideas of Valentine's Day photos to send your hookup, because a picture is worth 1,000 words.