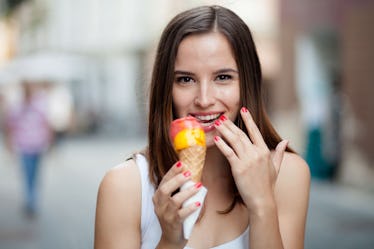 4 Hot Pictures To Send After A One-Night Stand If You're Hoping For Round Two
Figuring out the post one-night stand protocol, especially when you're hoping to see someone again, can definitely be a bit tricky. After all, no one wants to put themselves out there only to find out that their date from the night before isn't interested in keeping things going. If you're coming down from a great night and want to set the stage for another meet up, sending a sexy pic or two could be just the thing to keep the momentum moving toward round two. Pictures to send after a one-night stand to keep them interested while keeping it casual and not coming on too strong is definitely a balancing act. The goal is to remind them of what went down, get their blood pumping, and make it known that you're open to making plans.
IMHO, the biggest pitfall of trying to coax a memorable one-night stand into a more regular thing — i.e., a hook-up buddy, casual date, or even a relationship — is trying to change gears too quickly. If you just had a one-night stand with someone and send them a follow-up text telling them about how you'd love to go to the museum, chances are they might feel a bit of a disconnect in the abrupt change of tone — ultimately making them assume you're on different pages. However, if you can ride the high of the night before by staying spontaneous and playful, you're definitely going to make an impact. Plus, by staying chill, you're also allowing whatever is going to happen between the two of you to evolve organically. Here are some sexy picture ideas to keep the fire going until you meet again.