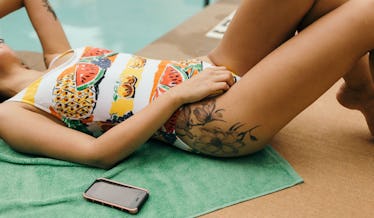 5 Hot Pictures To Send Your Dating App Match That They Won't Be Able To Resist 
So picture this: You've matched with a hottie and the banter is good. You're deep in flirt mode and you want to step things up with a sexy pic that will blow their mind. Maybe you have second thoughts. Is it too soon to be sending nudes? Probably, but you think they're trustworthy, and your gut is never wrong. So, what should you do? Well, you need some ideas for hot pictures to send your dating app match, and lucky for you I have some great ideas.
First thing's first, it's important (nay, essential) to remember that this person is basically a stranger. You don't know their motives or characteristics, or if they could get angry tomorrow and post your picture on a revenge porn site, so you want to be smart and strategic about what you send. Make sure it's nothing that could be able to haunt you later. Basically, the more you show of your bod, the less you should show of your face. Ya dig? But that doesn't mean that these photos are boring or impersonal. You can be plenty hot without showing off all your fun parts. It just takes a little imagination and a bit of daring, and you will have your match in the palm of your hand. (Well, more like the palm of theirs, if you know what I'm saying.) Here are some fun and flirty ideas to get you started on your snapshot adventure.