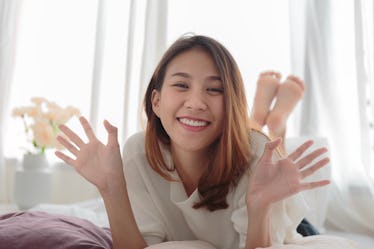 9 Period Sex Moves That Minimize The Mess & Maximize The Magic
Shutterstock
Let's get one thing straight: Having your period in no way means you don't want to get frisky. In fact, just hearing about these period sex moves that minimize the mess and maximize the magic will have you counting down the days until your next cycle. Sure, you're wearing your oldest sweatpants and your Garfield T-shirt that reads, "I hate Mondays." Yes, you just took two Midol and passive-aggressively asked your roommates not to eat all your ramen. But you're feeling yourself right now, and it's about to go down. It's that time of the month, baby.
ICYMI, period sex is nothing to be ashamed about or embarrassed by. Your body is strong and magnificent, and having your period is natural and healthy. While you never need to do anything that you're not totally into, if all parties are ready and willing, having sex on your period can be super sensual. Additionally, period sex can also help to relieve pain caused by menstrual cramps and increase your body's levels of oxytocin and dopamine.
If you're looking for a few ways to stay clean as you get down and dirty, here are nine sexy moves to try the next time you're on your period.