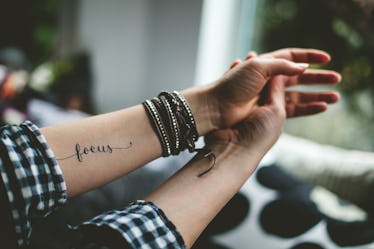 These 9 One-Word Tattoos Are All You Need To Make A Statement
Tattoos come in very different shapes, sizes, and colors. When you decide to get a tattoo, you're really choosing artwork that represents who you are. Some people go for big pieces that are flashy for everyone to see, but most people choose to go for something simple that is more personal and represents who they are as a person. Honestly, a tattoo is a nice way to show off something inside of you, by printing it on the outside. That's why I love one-word tattoos. They are the most simplistic tats to get, but they have so much meaning behind them. It's not just about the word and its definition, but about what that word specifically means to you.
Choosing a word to ink on yourself is like branding yourself with that one personal statement. It's like picking a favorite color or animal, and you're not just willy nilly picking a random one. The words you choose can be very literal, or they can be metaphorical. That's what's so great about these one-word tats; they can take on so many different meanings. So when you're deciding on your next tat, picking a one-word statement is the easy choice. The tough decision is picking the word you want for yourself. Don't worry; we've made it easy with these nine one-word tattoo suggestions that are absolutely gorgeous.