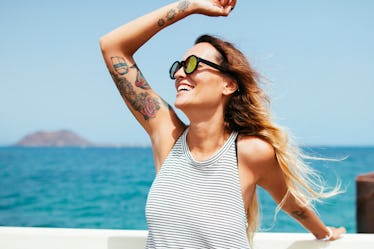 These 10 Dreamy Travel Quotes Are Perfect Tattoos For The Girl With Wanderlust
Travelers are curious, wild, and free. They're always in pursuit of the next big adventure and they never fail to share the value of discovering the unknown. However, sometimes life gets the best of us. Sometimes, our greatest passions get pushed to the back burner because of jobs, fear, societal expectations, or life itself. That's why a tattoo may be the perfect reminder for those who have an incurable case of wanderlust. If you're dying to get a new tat with meaning that embraces your love for travel, some of the best travel quotes that might just inspire you.
Not everyone is a fan of getting a tattoo, and that's totally OK. However, those of us who really love a bit of ink are always plotting our next piece. With summer coming up, it's the perfect opportunity to rock our fresh ink in swimsuits and sundresses. It's even better if we can compare our travel tattoos with other travelers who we'll inevitably meet on the road. Whether you're looking for a purposeful tattoo that reflects those amazing times spent traveling, or a tattoo that reminds you of the life lessons you've learned out in the world, you may want to keep reading.