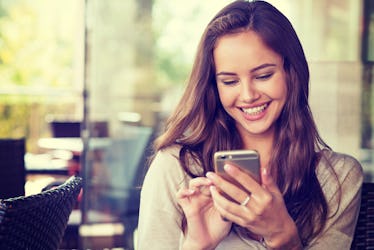 9 Perfect Memes To Send Your Bestie When She's Not Paying Attention To You
So, you just got through telling your friend a hilarious story, and when you expected laughter in return, all you got instead was a pathetic, "Heh, that's funny." That's when you realize your friend was distracted by their phone, and not paying attention at all. (Talk about annoying AF!) Believe me, I get it. I'm also obsessed with my phone, but there's a time and place. That's when you need to let your friend know what's up. If they love their phone so much, get through to them with some memes to send someone when they're not paying attention.
I think the reason we love memes so much is because they're all too real. When your friend sees a funny meme about not paying attention, it'll snap them right back to reality and have them apologizing for not giving you their undivided attention. In fact, these nine memes about not paying attention will also work perfectly when your BFF hasn't responded right away to your texts, or if your work wife is MIA from your Gchats. Maybe you're the one who's not paying attention. Then, you'll definitely get a kick out of these relatable memes, and they'll keep you distracted from whatever you're currently not paying attention to.