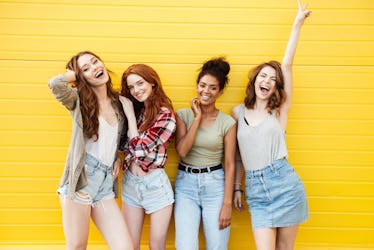 9 Last-Minute Ways To Celebrate National Friendship Day With Your Ride Or Dies
Shutterstock
Attention all bestie squads out there: According to the National Day Calendar, the first Sunday in August marks National Friendship Day. If you completely missed adding this to your calendar, don't fret. There's still time to put together a fun plan for you and your BFFs to celebrate the occasion. You were probably already planning on spending the weekend with your crew, but no plans were solidified quite yet. Instead of hanging out at your typical spots, consider some last-minute ways to celebrate National Friendship Day in style.
I feel like I don't know about all of these national days until people start posting on Instagram or the hashtag starts trending. You would hate to completely miss the day altogether, but you might not have time to rally the whole squad for a weekend getaway. Instead of your typical Sunday brunch, you could spice things up. Send out an invite in your group chat for one of these last-minute plans that you know everyone will be about.
When Sunday rolls around, you won't need to scroll through your phone for a throwback group selfie to post on the 'Gram, because you'll be out having fun with your favorite people. You can post a brand new snap with a caption like, "Friends till the end" with #NationalFriendshipDay.