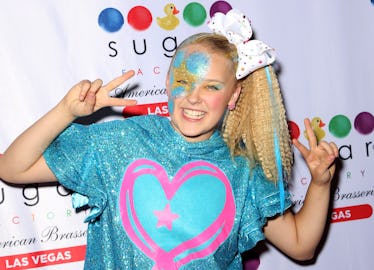 These 9 JoJo Siwa Quotes About Love Will Legit Cause Happy Tears
Gabe Ginsberg/Getty Images Entertainment/Getty Images
JoJo Siwa is your go-to girl when it comes to sequins and sparkles, but over the years, the pop star has also offered some pretty savvy advice on the subject of love. From her importance messages about self-acceptance to mushy interviews about her new girlfriend, my fave JoJo Siwa quotes about love all have one thing in common: They're all so, so wise (especially considering Siwa isn't even old enough to vote yet).
Though the Dance Moms alum has built a platform on loving yourself and others, she usually keeps her own love life on the down-low... that is, until recently. Soon after she came out as a member of the LGBTQ+ community, Siwa introduced fans to her new girlfriend, Kylie. "After being my best friend for over a year, January 8th 2021 I got to start calling this exceptional human my girlfriend... and since then I've been the happiest I have ever been!" Siwa wrote in a February 2021 IG post. "She seriously is the most loving, supportive, happiest, protective, and just the most beautiful perfect person in the world." My heart!
Here are just some of Siwa's best quotes the importance of self-love and loving others without judgement, because I think everyone could benefit from a little positivity.