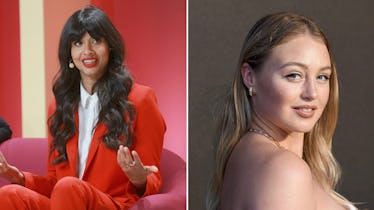 The 9 Best Wellness Instagrams To Follow If You're Sick Of Being Told To Eat Kale 24/7
Rich Fury/Getty Images Entertainment/Getty Images/Nicholas Hunt/Getty Images Entertainment/Getty Images
While the wellness community on Instagram can indeed be very inspiring, the curated sea of seemingly "perfect" images can also sometimes be incredibly toxic and exhausting to keep up with. A quick scroll through the profiles of most popular wellness Instagrammers will likely show you lots of extensive meal-prepping, overpriced workout classes, and overall, completely unachievable lifestyles. So if you're sick of being told to eat kale every single day when you open up Instagram, there are other inspiring wellness Instagram accounts out there that you can follow, that actually keep it as real and as candid as possible 24/7. You just have to do a little digging to find them — but, lucky for you, I've rounded up nine accounts you should start following ASAP.
The fact of the matter is, Instagram is one of the worst platforms for mental health, period. A 2017 report from the UK's Royal Society For Public Health and the Young Health Movement revealed that "platforms like Instagram and Facebook present highly curated versions of the people we know and the world around us," and as a result, consuming these social media feeds on a regular basis can lead to body image issues, as well as feelings of anxiety, depression, and loneliness, according to the research findings.
Of course, not every Instagram account will make you feel these things; it's just a bit harder to find the ones that are authentic, relatable, and that don't make you feel worse about yourself each time you scroll through their feed. To get you started, here are nine incredible women to follow on Instagram who always know how to keep it real, and who are dedicated to inspiring you day in and day out.