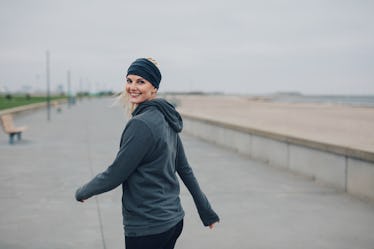 9 Gifts For Runners That Aren't Just Another Pair Of Fancy Headphones
Everyone has that one friend who's literally obsessed with running. They've done like 17 half-marathons, they're basically riding a permanent runner's high, and they frequently say sh*t like, "Ugh, I only ran 10 miles today." Still, you love them unconditionally, and you're constantly trying to come up with unique gifts for runners to keep your little gazelle happy around the holidays.
With Christmas and Hanukkah right around the corner, it can be easy to get overwhelmed by all the gifting you have to do. And when it comes to finding the perfect gift for your BFF who loves to pound the pavement, you might be tempted to just opt for a pair of fancy headphones at the last minute and call it a day. Sure, hhigh-tech headphones are great and all, but it's a pretty blah gift for someone who probably already has, like, 20 pairs. While your giftee will probably appreciate the sentiment no matter what, you really want to wow her right out of her Nike Pros this year, don't you?
Luckily, there are a bunch of clever and punny gifts that your favorite running enthusiast will absolutely adore. Here are a few to put on your holiday shopping list.