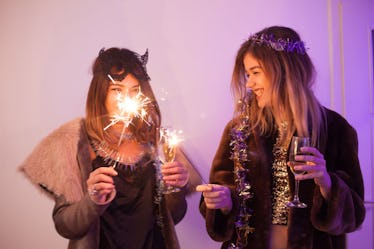 Holiday Parties Are The Perfect Time To Flirt, So Here Are 9 Opening Lines
Picture it with me now, folks: The slow-tempo intro to Mariah Carey's "All I Want For Christmas Is You" starts as you sip eggnog at your friend's holiday party. Then, as soon as Carey hits the classic "youuuuuuuuuuuuuu," you lock eye contact with that cutie across the room. Now that you've made holiday rom-com level of cuteness eye contact, you may be wondering about how to start a convo. Well, when it comes to figuring out how to flirt at holiday parties you have a lot of options.
First thing's first — how well you know them can really help you figure out what to say. If you don't know them at all, keep an eye out to see if they are at the party solo or with a partner. Next, remember that approaching someone and being friendly can't hurt as long as you're polite. Using context clues can also help you figure out what to say, for instance, you could pull a Bridget Jones Diary-classic and compliment them on their ugly Christmas sweater. If you're not quite sure where to start, don't worry. I've listed some lines to try out at your upcoming Friendsmas, New Year's Eve bash, or white elephant gift exchange. To see how to make your holiday wishes come true, check out the following opening lines for your next holiday party.