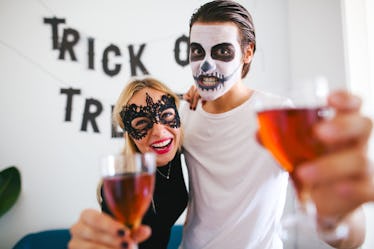 9 Flirty Conversation Starters For Halloween Parties That Are Sweeter Than Candy Corn
OK, forget about Valentine's day — Halloween is honestly one of the most romantic holidays. There's just something about the way a great costume can give you an added confidence and make the usual worries of everyday life fall to the back of your mind. That can honestly make flirting a lot easier. If you don't know how to flirt at a Halloween party with that cutie in the corner dressed as your favorite Avenger, look no further than the following suggestions.
Going to a friend's Halloween party is also a fun chance to get to know people better — including your crush. For instance, when you see your friends in costume, you can get a better sense of their humor and personality. You might also be surprised to see who shows up in a couple's costume together. Let's just hope your crush doesn't come to the party dressed as half of a couple's costume. One good tip to remember is if your crush clearly put time and effort into their costume, they're probably going to love compliments or questions about it. Which is good for you if you've been dying for a reason to talk to them!