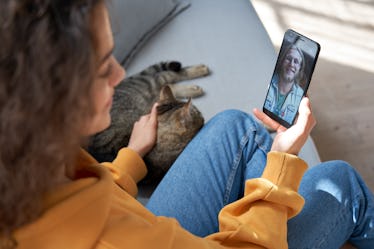 Dating Apps Are About To Be Busier Than Ever — Here's How To Make The Most Of It
Shutterstock
2020 was a rough year for dating. How rough? Like playing a video game on the hardest level. Like answering a text when your nails are still drying. Like watching Bridgerton with your parents, only to discover Regency England was way steamier than you ever expected. But fortunately, Dating Sunday is coming up on Jan. 3. The first Sunday in January is always the busiest day of the year for dating apps. If you're going to put yourself out there, these tips will help you make Dating Sunday 2021 one of the most rewarding days of the year.
The good news: Despite dire conditions, singles are feeling optimistic. Even though Bumble recently found that 49% of daters believe they'll be "bad" at dating in 2021, it also discovered that over half of users (56%) believe this will be "their year" when it comes to finding a partner. Another 56% plan to focus on dating even more than usual in January, and a full two-thirds (66%) say the start of the new year is inspiring them to put themselves out there more.
To make the most of this swipe-happy holiday, I asked avid dating app users how they plan to make the most of their love lives on Jan. 3 and beyond. Their advice is inspirational.