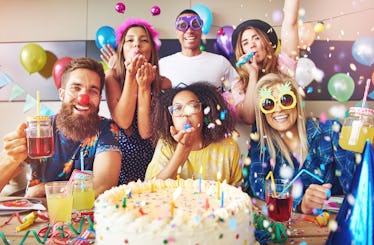 When You're So Over Birthday Dinners, These 9 Party Ideas Take The Cake
I love celebrating my birthday. My go-to plan every year is having dinner with my best friends at my favorite restaurant. It always includes the same dessert, and waiters singing their very own version of the birthday song to me. As much as I love it, the same old scene can get kind of stale after a while. If you're feeling like you're in the same boat as me, you want to spice things up with birthday ideas that aren't dinner.
Another year doesn't necessarily mean you have to do the same thing over and over again. I personally love a low-key birthday dinner, because it takes very little planning other than getting a headcount and making a reservation. However, that's not the only simple party to plan. There are plenty of other chill nights with your BFFs that don't involve ordering appetizers and splitting a check.
Also, if you're looking for something bigger for a milestone birthday, you can switch up your go-to with something a little more epic. You might even be able to check something off of your bucket list. Though, whether it's big or small party you're aiming for, you're sure to find something from this list of nine birthday ideas that's calling your name. Who knows, you may lock down a new birthday tradition.