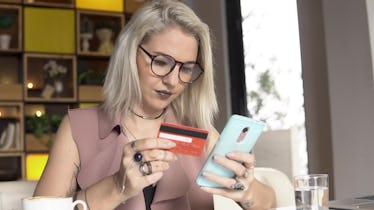 These 9 Tweets About Student Loans Are So Accurate & Cringeworthy
Shutterstock
Let's face it, you loved the late-night hangouts in the dorm, ice cream socials, Frisbee games in the quad, and showing off your school spirit in college, but the price to pay for that amazing experience really added up. Sometimes, it feels like your post-grad life is dodging Sallie Mae calls and watching a big chunk of your paycheck leaving you the minute it hits your bank account. As frustrating as it can be, you can find the humor in the best tweets about student loans because of how relatable and cringeworthy they truly are.
As someone who finally paid off her student loans, I can assure you that there is a light at the end of the tunnel. It is possible to be debt-free, and the minute you pay everything off, you just want to throw some confetti in the air and celebrate.
In the meantime, you have to remember the good times and diploma are worth it. Just keep telling yourself that. It also helps to know that you're not alone. Pretty much everyone with student loans is in the same boat as you, and you can laugh at these nine tweets that are truly all too real about the struggle.