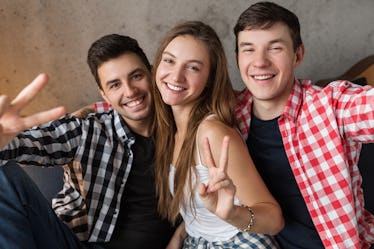 9 Amazing Things About Having All Brothers That Make You One Lucky Sis
Growing up with all brothers meant you always had someone to play video games with, someone to sneak all the good snacks from the top of the cupboard for you, a protector on the playground, and whenever something went wrong, you could just bat your eyelashes sweetly and blame it on them. (Oops.) You were living the dream, but those benefits of having all brothers didn't stop the minute you moved out of the house and became a grown-up. You still consider yourself one lucky sis, because you always have your brothers there to make you feel so special.
As the only girl among all the boys, you were treated like a princess since day one. You always felt safe and protected having your go-to guys around, but they also toughened you up. That mix of confidence and strength is something you take into adulthood and use like a pro. You have that brother-sister dynamic to thank for that, and you really wouldn't trade your siblings for the world.
These nine things made you sublimely #blessed above the rest. They're some of the main reasons why you love your brothers endlessly, and why they will forever hold a special place in your heart.