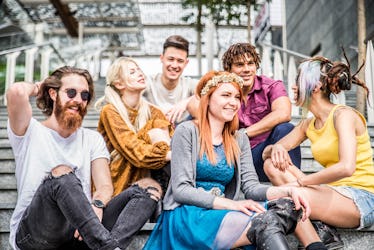 9 Benefits Of Having "Your People" To Go Through Life With & Not Just Your Person
Making friends should never be a competition with the next person. But, if you're a member of a close-knit group of people that's embedded with loyalty, trust, and ride or dies, you aren't overlooking your blessing in disguise. You might think having your person is already a stretch of your expectations of what the world's going to hand you in the platonic department, but think bigger. Looking around at your people, you already know the benefits of having a friend group, because you're receiving the perks all of the time.
No one is sleeping on the benefits of having a person — but having a group of your people in your corner is an irreplaceable experience. Your squad of is made up of unique personalities, but you all have a shared interest of friendship on your agenda. Everyone contributes in their own way, and that's how a solid, multi-dynamic bond is formed. That type of love is unbreakable. Think about Scooby-Doo's gang — they were so unified that they could even solve crimes together. Now, you all may not have a Great Dane in the crew, but you still know the iconic benefits of living life surrounded by your favorite humans.