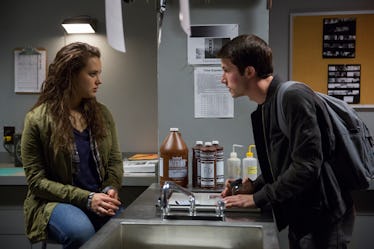 9 '13 Reasons Why' Facts That Will Help Ease Your Pain After Binging
Beth Dubber/Netflix
If you've already binged 13 Reasons Why Season 2 on Netflix, then you might need a quick breather before diving into something else. I mean, that was a dramatic finale. And traumatizing. And a lot of other things. Maybe some 13 Reasons Why facts will help you take your mind off things? There are plenty of secrets that even the most die-hard fans of the series don't know, and learning them all will make your first few days after binging much more bearable.
1. Seasons 1 and 2 were filmed on location throughout Northern California.
You didn't think that a show as huge as 13 Reasons Why filmed on a soundstage, did you? The Netflix series shoots primarily on location in the San Francisco Bay Area, and towns including Vallejo, Sebastopol, and San Rafael are featured heavily in both seasons. For instance, Baker's Drug Store, the family-run store owned by Hannah's parents, is actually a real store (with a different name) in Vallejo, California. If you want to visit the real 13 Reasons Why filming locations, check them out here.
2. Google Maps captured Dylan Minnette outside Clay's house.
Remember what I said about real locations? If you Google Clay Jensen's address and switch to street view, you'll see a blurred-out picture of a guy in a hoodie and jeans posing outside. While there's no way to know if this is Dylan Minnette for sure, it definitely seems like Google Maps captured the 13 Reasons Why star on the lawn as he prepared to shoot a scene inside the house.
3. The book almost had a totally different title.
We all know that 13 Reasons Why is based on a book of the same name, but Jay Asher's novel (and the subsequent show) almost had a totally different title. According to Cosmopolitan, Asher originally wanted to title the book Baker's Dozen: The Autobiography of Hannah Baker. I appreciate the pun, but I think 13 Reasons Why is a little more catchy.
4. Selena Gomez was originally going to star as Hannah Baker.
13 Reasons Why executive producer Selena Gomez was originally supposed to have a much larger role in the show. When Asher's novel became a smash hit in 2007, tons of production companies vied for a chance to secure the rights to a film — including Gomez' company, July Moon Productions. Ultimately, Gomez was successful, and it was announced that she would play Hannah Baker in a movie adaptation of the novel.
However, production on the movie stalled, and by the time Netflix looked into turning the book into a show, Gomez had become a mega-star. Netflix, Asher, and Gomez decided that Gomez was too famous to star as Hannah Baker — viewers needed to identify with Hannah, and it's hard to do relate to a superstar — so they began looking for a relatively unknown actress (enter: Katherine Langford) and upped Gomez to Executive Producer. While it definitely would have been interesting to see Gomez in the role, this seems like the right call. Good job, Netflix.
5. Hannah and Clay dance to "The Night We Met" by Lord Huron.
There aren't many drama-free moments in 13 Reasons Why, but there are a few. In Season 1, Hannah and Clay share a sweet moment at the dance and almost kiss as "The Night We Met" plays on in the background. If you want to pretend like you go to Liberty High (which I wouldn't recommend, because that school has all sorts of issues), you can listen to the Lord Huron song on Spotify.
6. You have Dylan Minnette to thank for that amazing soundtrack.
Say what you will about 13 Reasons Why, but there's no denying that the soundtrack is amazing. Thank you, Dylan Minnette. In an interview with PopSugar, Minnette revealed that he helped Brian Yorkey, the creator and showrunner, curate the soundtrack for Season 1. Music is a huge part of Clay's life in 13 Reasons Why (and Minnette's: He's the lead singer for the band Wallows), so it makes sense that the actor wanted to make sure everything was on point.
7. Alisha Boe's most difficult scene in Season 2 to shoot was Jessica's panic attack at the mall.
Alisha Boe is amazing as Jessica, a student who was raped by Bryce in Season 1, but struggles to remember the assault in Season 2. In Season 2 Episode 7, "The Third Polaroid," Jessica suddenly remembers a few things about that night while in a mall dressing room, and she begins having a panic attack as the memories rush back. During a behind-the-scenes interview with the cast, Boe said that this was the hardest scene to shoot this season:
My hardest scene to shoot was when Jessica has her panic attack in the mall. We filmed in a live mall and there were people standing upstairs, and it was just a very emotionally impactful day overall.
8. The cast has therapy dogs on set to keep them calm.
If you think watching 13 Reasons Why is heavy, imagine filming it every day for months. To ensure that the the cast and crew are calm and emotionally ready to shoot, the production team keeps therapy puppies on hand. "There was a puppy per hour. They really tried to help out. The puppies helped," said Minnette about Season 1.
9. The show's creators changed the ending of the book on purpose.
In Asher's novel, Hannah commits suicide by taking an overdose of pills (for a brief moment, Asher thought about having Hannah get her stomach pumped and survive, but felt that the message would be stronger if she died). However, in the show, Hannah commits suicide by slitting her wrists, a decision Brian Yorkey says was deliberate. He said:
We worked very hard not to be gratuitous, but we did want it to be painful to watch because we wanted to be very clear that there is nothing, in any way, worthwhile about suicide.
If you or someone you know are experiencing suicidal thoughts, call 911, or call the National Suicide Prevention Hotline at 1-800-273-8255.