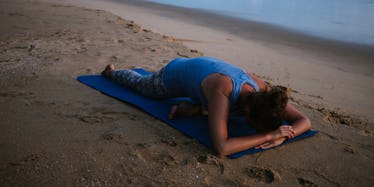 This Yoga Flow Will Help You Let Things Go When Life Gets A Little Too Toxic
There have been many times in life when I've caught myself holding onto things that were no longer serving me or contributing to my personal growth, just because they were comfortable and safe. Over the years, a daily yoga and meditation practice has taught me how to let go of toxic attachments, and free both my body and my mind from lingering tension. If any of this sounds familiar to you, incorporating a few yoga poses for release into your own practice might help you let go of anything you've been holding onto that's preventing your most radiant and empowered self from emerging.
By combining a series of restorative movements, pranayama (breathing techniques), and meditation, yoga teaches you how to get to a place of liberating "vairagya," or "non-attachment." Sure, yoga's not a quick-fix for any struggles you're facing in life, but by consistently showing up for yourself by rolling out your mat each day, you'll slowly begin to learn new things about your innermost tendencies and thoughts.
When you commit to a practice that makes you feel empowered, you'll realize that you've always been, and always will be, equipped with the tools to let go of toxic things, people, and situations. Use this yoga flow to remind you of what you're capable of when you feel the need to release yourself from expectations, judgments, and the physical tension that these things inevitably bring.