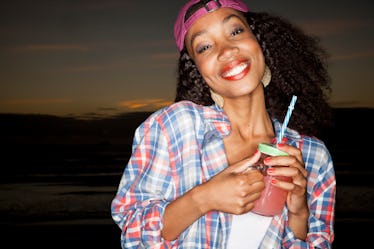 These 8 Wine Slushie Recipes For Your 'Bachelorette' Watch Night Are Rosé-Worthy
DUEL/Cultura/Getty Images
Long gone are the days of only enjoying wine right out of the bottle. Now, you can get creative with your red or white, and enjoy these wine slushie recipes on YouTube that are so easy to make. All it takes is frozen fruit, your favorite bottle, and a blender to mix it all together. It's that simple, so start blending up some beautiful drinks that will taste yummy and look amazing on your Instagram feed.
Switch up your next wine and paint night with your besties, and enjoy ice cold wine slushies instead of a bottle of rosé. The same goes for your Bachelorette or Bachelor watch party. Rather than uncorking and pouring a bottle of merlot, mix up a batch of sangria slushies that are so worthy of a rose.
The best part about wine slushies is that once you find your go-to recipe, you can be creative with your own. Mix together your favorite fruits and a bottle of wine for a signature drink, then come up with a name that's fit for the occasion. Be sure to record yourself preparing the recipe for a fun Instagram Reel, and maybe you'll inspire someone else to become a wine slushie lover as well. Don't forget to add vibrant garnishes like edible flowers and pretty straws to your drinks to complete this Instagram moment.