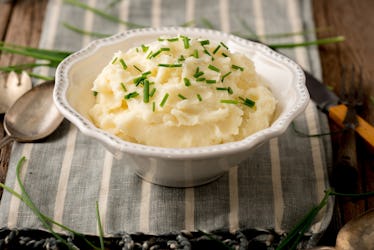 8 Vegan Mashed Potatoes Recipes That Don't Need Butter To Make Your Mouth Water
Just as holiday season dessert tables wouldn't be complete without slices of pumpkin pie, dinner spreads wouldn't be the same without a large, ceramic bowl full of fluffy mashed potatoes at the center of it all. But if you've recently converted to a plant-based lifestyle, or you've been experimenting with healthier alternatives to holiday indulgences, odds are you've cut out butter and margarine from your cooking staples. Rest assured, though, there are plenty of vegan mashed potatoes recipes to follow and tweak to your liking that don't require sticks of the stuff in order to make the decadent side dish.
Starches are a vegan's best friend, so don't think for a second they're skimping out on mashed potatoes at Thanksgiving dinner just because the traditional recipes usually call for loads of butter. Contrary to what all those chefs on your favorite cooking shows preach, you can cut out dairy and still indulge in equally delicious mashed potatoes, too.
Trust me when I say I understand if you're a little skeptical here, especially if you grew up in a household where Mom whipped up her specialty mashed potatoes with a recipe that strictly called for milk, eggs, and butter. Fortunately, plant-based peeps have navigated their way through holiday recipes that traditionally required animal products, and have established delicious alternatives anyone can enjoy.
Check out the following vegan mashed potatoes recipes if you're looking to indulge in the fluffy stuff dairy-free this Thanksgiving.