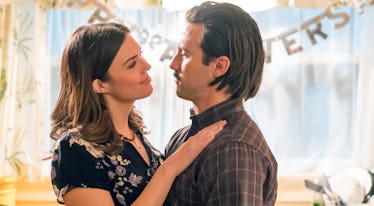 8 TV Show Quotes About Relationships That'll Make You Wish You Were In Love & BRB, Sobbing
Ron Batzdorff/NBC
Most of my favorite couples are fake. There, I said it! Few IRL couples inspire me more than the ones I see on TV, which is why there are so many good TV quotes about relationships. I'll be the first to admit that television is (obviously) fake. It's scripted, staged, and 99 percent of the gushy moments that happen do not happen IRL. But when Ben proposes to Leslie on Parks and Recreation? Ugh, my heart. And when Rachel on Friends gets off the plane?! Bye! I cry every time.
Maybe I'm unrealistic in my expectations for love, but it seems like all of my favorite IRL relationships have gone so downhill lately, that you can't blame me for turning to Netflix to try and find some pure, beautiful, cry-in-my-Ben & Jerry's romance. Sure, Chris Pratt and Anna Faris divorced and Brangelina is no longer, but on television, love is interpreted in its most idealistic form. Star-crossed lovers reunite after years apart, people confess their feelings for each other, and couples who are destined to be together usually end up together, even if it takes years. It's just all so romantic, and maybe the unrealistic nature of these moments is what makes us long for them to happen in our relationships IRL.
There are several top-notch TV shows that you should definitely watch if you haven't already. Some of these are old-school classics (remember Boy Meets World?) and others are pretty new but still pack a punch. (Ummm…. hi, This Is Us.) Whatever the genre or generation, these quotes all have one thing in common: They'll make you wish you were in ~love~.