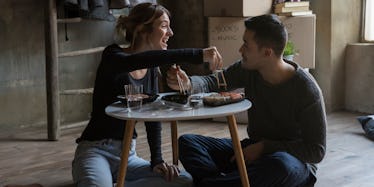 8 Tiny Little Details That Nobody Tells You About Being In A Relationship
Having a boyfriend/girlfriend/whatever has many unexpected life bonuses. For one, you get to "do life together" (shout out to that incredible March Madness bracket about Instagram engagement captions), which entails, you know, doing stuff with someone. For the introverts out there, I know simply spending time with another person isn't always a draw, so I put together a list of unexpected pros, and really minor cons about things that happen in a relationship.
These things may differ from the kind of relationship you have with your friends and family – so when entering a romantic relationship, you might not really know to expect these details. But a lot of navigating a relationship is figuring out what works for you – what makes the relationship strong, and adjusting along the way. I know one of the things I love in relationships is my partner surprising me. From them showing up after a class I had just to say hi before I had to go to my next class, or learning my favorite One Direction song on the piano, sometimes it's the ~little things~ that mean the most.