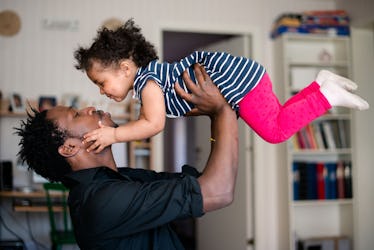 8 Times Your Dad Was Low-Key So Much Cooler Than You
Parents really aren't as uncool as we try to make them out to be. There are many moments when they show us just how much we underestimate their awesomeness. When it comes to your dad, he has a way of jokingly embarrassing you, but even that can't make you overlook those times your dad was cooler than you. Yes, you read that correctly. You have been out-cooled.
Remember when he scaled the side of your house on a ladder just to get your frisbee? That's a cool dad moment right there. These times combine Dad's quick thinking, bravery, and selflessness. You know, all of the qualities that make up those iconic superheroes. Go figure.
Now, you might not actually tell your dad he is super freaking cool, because he won't let you live it down. (I mean it: You will never hear the end of it.) As you've gotten older, though, your dad's coolness has become even more apparent. Maybe it's because you begin to realize that parenting is not at all easy, and your pop has pretty much been handling it like the real MVP since day one. It's time to give your dad a big hug, because it's quite clear his coolness was off the charts these eight times.