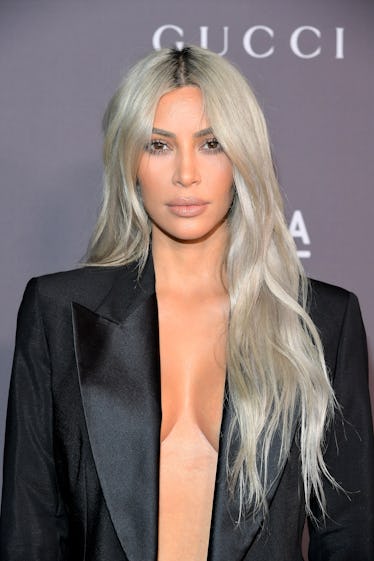 8 Times Kim Kardashian Was More Honest Than Your Fave Would Ever Be
Charley Gallay/Getty Images Entertainment/Getty Images
I have a lot to say about the Kardashians. Like, kind of an extraordinary amount. I could spin millions of essays out on their work ethic, their business model, their family dynamic, their style evolution, their public persona, their PR team, their individual brands, and their television series. Obviously, Kim Kardashian is at the center of it all. Whether you hate to love or love to hate her, you've got to admit, she's one smart woman. She's also, like, hilarious. There are plenty of times when Kim Kardashian was so honest, and it was either hilarious or brutal. Fortunately for us, many of these moments were caught on camera.
When it comes to the Kardashians, they seem to follow one golden rule: loyalty and honesty above all else. Sometimes, this means they really look out for one another, and sometimes it means they can be really mean to each other. Though I do love me some Kourtney Kardashian one-liners, it's still so delightful when sister Kim lets her guard down and just tells it like it is.
Here are eight times when Kim Kardashian was so, so real.
1. That time she told Khloé her face looked fake.
Why is it so much fun to watch family members make fun of each other? In this clip, Kim calls Khloé on the phone and demands an explanation about what's going on with her face. She tells Khloé, "You whole face is changed... It's like, I stare at you." She also told her sister Kourtney, "I thought she [Khloé] was on drugs."
2. When she openly prioritized her selfie over her sister going to jail.
Iconic. Maybe the best Kim Kardashian moment of all time. Khloé was on her way to jail after violating her probation for a DUI, but Kim couldn't be bothered. Instead, she seemed to have found her best light on the car ride there. (This scene also prompted one of Kris Jenner's best quotes of all time.)
3. That time she called Caitlyn Jenner a liar.
This is still a sensitive subject in the Kardashian/Jenner household. Kim felt she had been extremely supportive of Caitlyn Jenner during her transition, but she was disappointed with the I Am Cait star when her book came out. Predominantly, she felt Jenner made up false stories and lies about her mom, Kris Jenner, and late father, Robert Kardashian.
4. That KUWTK episode when she called out Scott for bringing home a girl.
This was intense. At the time, Disick was vacationing with Kim when he found out his ex and babies' mama, Kourtney Kardashian, went out with another man. He acted out by bringing a girl back to his hotel and then hid her from Kim and her entourage. Of course, Kim found her, called her a groupie, and demanded she "get her sh*t and get out."
5. When she took credit for Kourtney's career.
THIS IS MY FAVORITE. I LOVE WHEN KIM ADMITS SHE MADE EVERYONE FAMOUS. In this KUWTK clip, Kourtney refused to be a part of Kim's video game. Their argument prompted Kim to say she doesn't owe Kourtney anything, exclaiming, "I bought her a f*cking career!"
6. When she said Kourtney's stretch marks were her worst nightmare.
That's one way to put it. A super pregnant Kourtney was minding her own business when Kim noticed a stretch mark across her sister's belly. With no filter, Kim explained how getting stretch marks was her "biggest fear in life" and that she could cry for her sister. Oof.
7. When she promised to give us "nude selfies until she dies."
In 2016, Kim accepted The Webby Awards' first ever "Break The Internet" award for her "bold and creative" social media use. At the Webbys, it is custom for acceptance speeches to consist of five words or less. Kim wasted no time getting straight to the point.
8. When she admitted her brief singing career was a hilarious mistake.
Please tell me you remember her singing career? In 2011, Kim released exactly one single titled "Jam," and it was the best/worst thing to ever happen to me. Years later on an episode of Watch What Happens Live, she acknowledged how hilarious and silly it was that she ever pursued music in the first place.
Ah, Kim. You're the best. Thanks for always keeping it real and for delivering us endless hours of entertainment, conversation, and one-liners. Nude selfies until you (and I) die.
Check out the entire Gen Why series and other videos on Facebook and the Bustle app across Apple TV, Roku, and Amazon Fire TV.