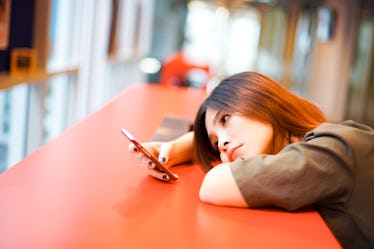 8 Relatable Thoughts You Have When Waiting For Someone To Text Back & It Feels Like Eternity
I pride myself on being a fairly quick responder to text messages. Of course, there are the few occasions when my battery is dead or I somehow don't have my phone on me, but overall, I am always there to reply. So, you can understand the struggle I feel whenever someone doesn't text me back ASAP. You've likely been there before. You type up the wittiest text, hit send, and wait patiently for that typing bubble to pop up. When that ellipsis never shows, that's when all the thoughts you have when waiting for someone to text back start filling up your head.
Nowadays, almost everyone always has their phone close by. Of course, there are the obvious excuses to why someone may be slow to respond, but I just don't understand how it can take several hours (or even days) for some people. There's nothing more stressful than waiting forever for your crush to text back, or sending out a crucial text to your bestie, and never getting a response.
You may have that one friend who's the actual worst at texting back. The struggle can be so real. Your friend group may have gotten to the point where you expect it, and it's an inside joke. However, there are still times when you end up texting them with a question, or need them to spill the tea ASAP. You wait forever to hear back from them. It happens, and you likely find yourself thinking these eight thoughts all over again.