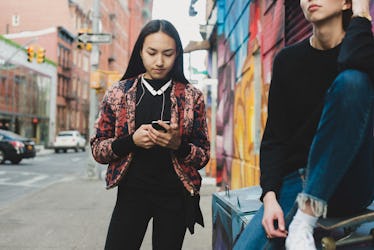 7 Real Struggles When Your Bestie Is The Actual Worst At Texting
I love my bestie, I do, but if there were one thing I could change about her, it would be that she'd be better at texting. I can't tell you how many times I've had to text the same question over and over again for just a simple one-word response. I know I probably say it a lot, but this is really when the struggle is all too real. When your best friend is bad at texting, it not only makes it harder for you to plan out your crucial best friend activities, but you really just want to know if she thinks that meme you sent her is funny or not. Is that too much for a girl to ask?!
You've probably gone back and forth about how on Earth someone could be bad at texting in 2018 — especially when we're constantly glued to our phones. But your best friend is special, and that's why you love her. Though, to be honest, these seven struggles you experience from her lack of texting abilities want to make you roll your eyes. (This would be the perfect time to send an eye rolling Gif, but of course, she probably wouldn't see it.) This is why we can commiserate together about our own struggles while waiting for our BFFs to finally text us back.