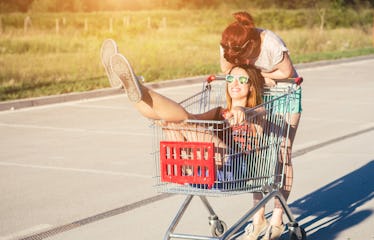 8 Bizarre Things Sisters Are Willing To Do For Each Other
If you have a sister, you know that she is basically your confidant, partner in crime, and best friend all in one. We need our sisters to combat this crazy world and to get incredibly weird with us when we are just trying to figure out this whole adulting thing. All of the extremely relatable things you can do for your sister that you wouldn't do for anyone else are just a portion of what this amazing bond entails.
We don't get to choose our sisters, but we definitely decide how far we will go to be there for them in their time of need. Sometimes, these things aren't the most ethical or easiest to understand, but the only real explanation for doing them is that it's just a sister thing. There's an unspoken, almost involuntary, allegiance sisters have for each other, and if that means stepping into quirky town... then so be it.
I mean, many of these out-of-the-ordinary things you'd do for your sister turn out to be amazing stories. Who doesn't like a good story? Sisters are practically unbreakable, and it's mostly because we acknowledge how deep our respect runs when we partake in seemingly unorthodox behavior to help them out. Maybe the word "bizarre" is harsh, but sisters certainly wouldn't mind doing a few of these weird things for each other.