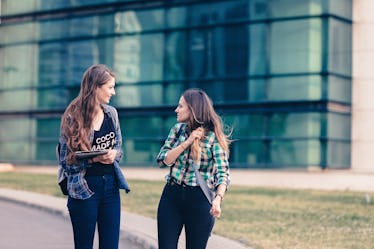 8 Things You Need To Know About Cutting A Friend Loose For The First Time
Making friends is one of the very first social things we're taught, and we continue to do it throughout different stages of our lives. The idea of not having your ride or dies by your side, experiencing life together, is beyond tormenting. And if you find yourself having to cut ties with a friend for one reason or another, your feelings are inevitably all over the place. Unfortunately, there is no step-by-step guide or newsletter that tells you the things to know about cutting a friend loose for the first time.
The circumstances vary within each friendship, and during the time that you are letting a friend go, everything can feel like a total bummer. I'm not going to lie — most of it is, but if you're willing to look on the positive side, you gain something not-so-crummy out of this grueling process.
It's all new territory to you, and letting a friend go will completely shatter the beloved idea that all friendships are meant to last forever. It's devastating AF, but once you're clued in on these eight realities, you won't feel so obliged to only dwell on the agonizing parts of the whole situation. Chin up, girlfriend — what is meant to be, will be.