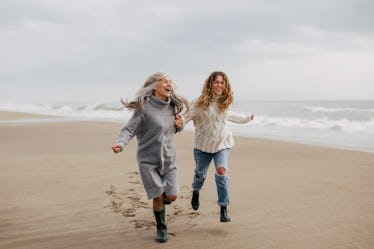 8 Things Every Girl Should Do With Her Mom When She's Officially A Grown-Up
All your life, you may have looked up to your mom. She could quite possibly be the coolest person in the world, and taught you everything you know about fashion, cooking, and just being an all-around #girlboss. Now that you're older (with money of your own), your relationship has changed a bit. In addition to being a great mom, she becomes a best friend. Now is the perfect time to share different kinds of memories with her. Here are some things every girl should do with her mom when she's a grown-up.
You and your mom have done so many things together, but being a grown-up means that it can be you treating her now instead of the other way around. Take her out for a spa day, hop in the car for a mini road trip, or even spend the night in cooking, drinking wine, and gossiping a little bit. Not only will the two of you have an amazing time together, but you'll also bond in a really special way that'll make your relationship stronger than it has ever been before.
And even though you're an adult and can take care of yourself, it's comforting to know that your mom is always there for you whenever you need her. You will always be there for her as well. Now that you're a grown-up, you can share so many amazing experiences together.