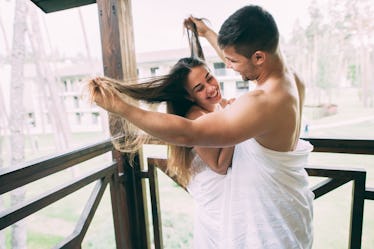 8 Sex Moves To Try On Your Balcony That'll Give You Big Deck Energy
Shutterstock
Though one can set the mood in any setting, there's something undeniably sexy about being up high and outside. Whether you have a picturesque terrace or a large porch, doing it on a balcony can bring on some major big deck energy. When the weather's beautiful and the view is gorgeous, these sex moves to try on your balcony will leave you feeling elevated and elated.
While getting it on in public can be totally hot, it can also be risky. So, doing your research and being considerate about your surroundings is a must. Having sex in public can land you a Class A or Class B misdemeanor, with penalties ranging from jail time to fines, or even earning a criminal record. Therefore, if you're going to have sex on a balcony, you'll want to make sure you're completely isolated. Additionally, if your balcony is super high up or the railing isn't secure, you're going to want to carry on with *yellow blinking sign* caution. Though sex can be a great way to learn new things about your body, your safety and comfort is always the most important thing to consider.
If you're ready to get ballsy on your balcony, here are eight sex moves to try ASAP.