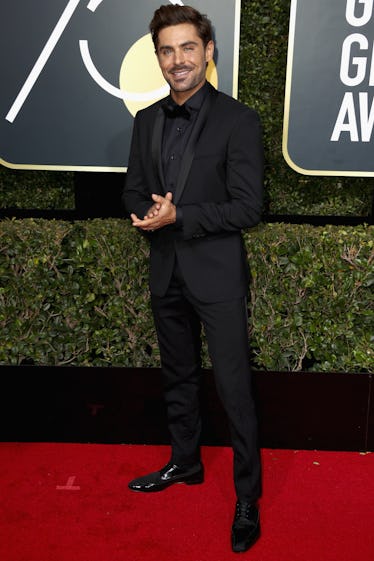 8 Secrets About Zac Efron Even His Biggest Fans Might Not Know
Frederick M. Brown/Getty Images Entertainment/Getty Images
I've been a fan of Zac Efron's since he first graced my TV screen back in 2006 as the captain of the East High basketball team in High School Musical. It's been amazing to follow the progression of his career — and OK, his abs — as he's gone on to star in movies like Baywatch, 17 Again, and The Greatest Showman, leaving Troy Bolton in the dust. But even if you stalk him on social media like I do, there's probably still a lot about this gorgeous guy you haven't yet uncovered. Here, then, are 8 secrets about Zac Efron even his biggest fans might not know. And if you do, then congrats are in order, because you're a way better stalker than me.
1. He Didn't Sing A Single Song In The First High School Musical
One thing I did know about Efron, but kind of forgot about, is the fact that he didn't actually sing in the first HSM movie. Such a bummer right? Instead, Drew Seeley got the gig, while Efron gave us his best lip sync. Don't worry, though — the actor sang his own tunes for both the second and third High School Musical follow ups. And thanks to his appearance in both Hairspray and The Greatest Showman, we all know our man's got some serious pipes — and is apparently pretty pumped when he gets to use 'em.
2. He Went To Rehab & Doesn't Regret It
Fans were concerned when Efron completed a stint in rehab for an addiction to alcohol and drugs back in 2013. But the actor recently told The Daily Telegraph that he has no regrets about his past mistakes.
"I've done a lot of things that I look back on and go 'Sheesh, are you kidding, what were you thinking?'" he said. "It is weird to say because I am also happy that I did all of those things because I am here before you today able to proclaim that this is me and I am very proud of who I am."
3. Simon Cowell Once Offered Him A Record Deal
Back in the Disney days, the American Idol judge/mega-producer Cowell reportedly offered Efron a record deal, telling him the two of them could "make millions" together. TBH, Cowell was probably right. But Efron turned him down anyway, in order to focus on his acting — which turned out OK for him, so mad props, dude.
4. He Knows How To Restore A Classic Muscle Car
Efron inherited a '65 Mustang from his grandfather, and though it took him two years, he completely restored it. Pretty impressive. Lucky for us, he later shared a bunch of pics of the finished product on his Instagram feed.
So hot.
5. He Once Tried To Find A Date On Tinder
OMG you guys — Efron told The Telegraph back in 2016 that following his breakup with model Sami Miro, he decided to hit up Tinder, but not a single person swiped right! "Amazingly, when I signed up for Tinder, nobody swiped me!" he said. "They thought [my profile] was fake." I don't know what I was actually doing in 2016, but if I had a time machine, I know what I'd definitely be doing.
6. He Got Into USC But Never Went
Efron was a child actor who did stints on shows like The Guardian and ER, while somehow still managing to stay in school. He graduated from Arroyo Grande High School in 2006 and was accepted into the University of Southern California. But you know what else happened in 2006? High School Musical came out, and Efron's career went soarin', flyin'. (I had to, people!) Can't say I blame him for passing up the chance to become a co-ed. I'd trade in college for a opportunity to rock that white track suit again, wouldn't you?
7. He Might Not Be As Tall As You Think
Chalk it up to those insane abs and his dreamy blue eyes, but I never really noticed that Efron was 5'7".
TBH, I kind of don't care, either.
8. He's A Yeezy Fan
'Nuff said.