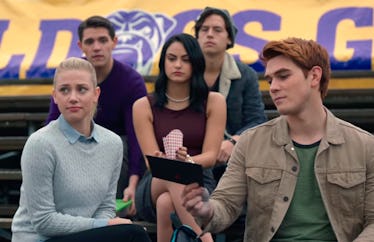 8 Legitimate Reasons Why You Want To Attend Riverdale High This Fall
Fall is a fresh start with an endless amount of possibilities. It means a new school year ahead, a beautiful change in the weather, cute oversized sweaters and beanie caps, and your favorite TV shows making a comeback. But out of all the shows returning this season, Riverdale is by far the one you're most excited for. You're feeling antsy AF waiting to find out what's going to happen next to Archie, Veronica, Betty, and Jughead. Let's be honest: Instead of heading back to your own school, there are a ton of reasons you want to attend Riverdale High this fall instead.
First of all, you'd be right there when all of the drama unfolds, so you wouldn't have to wait for the next episode to find out the scoop. (Farewell forever, cliffhangers!) You'd also get to walk the halls with your favorite Riverdale characters on the regular. (OK, you're ready to go back-to-school shopping and start classes, literally right now.)
You probably never thought you'd get this excited about school, but that's what Archie and the gang can do to you. Now all someone has to do is invent a way to jump into the TV, or find a way to make October arrive faster. You need some Riverdale vibes in your life as soon as possible.