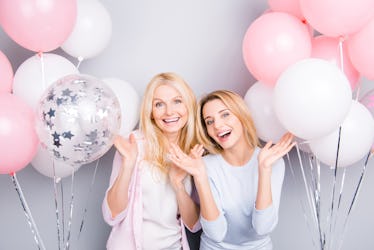 8 Little Things Only Your Mom Does On Your Birthday That Still Make It Magic In Your 20s
It's your birthday, and you can't wait to have a good time. Even if you have all the cake, presents, and party hats you could ever want, there's really only one thing — or shall I say, person — who always knows how to make your birthday the best ever. That person is your mom. She was there at your very first birthday, and there are many reasons celebrating your birthday with your mom in your 20s is literally the best gift ever.
I guess it's part of that mom superpower. She makes everything better just by being there. It looks so effortless, but you know your mom goes above and beyond to make that magic happen. I could be surrounded by a million adorable kittens, while eating my favorite cookie cake and listening to Taylor Swift music, but I wouldn't be truly happy unless my mom was right by my side, too. She's the reason for my existence, and I want her to know how much I love her.
Even if you live long-distance from your mom now that you're in your 20s, she likely finds a way to make your birthday one to remember. With these eight things only a mom could do, you find yourself having the best day ever. Now, blow out your candles and have the happiest birthday filled with tons of mom magic.