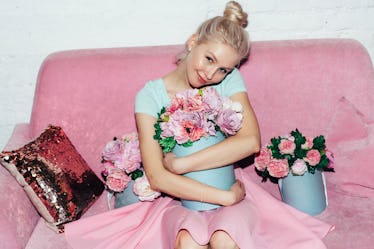 No Filter Necessary: 8 Pink Places In NYC To Bring The Millennial Hue To Your IG
Does your glittery pink phone case coordinate perfectly with your purse and go-to nail polish? Do you swoon over pink pastel lipsticks, sunnies, and bathing suits once summer hits? You must be a pink gal. Well, lucky you. On June 23, National Pink Day takes over, and you can post your adoration for the best color of all time on Instagram. And if you happen to be on the East Coast, this article will help you narrow down pink places in NYC to Instagram on National Pink Day. These spots are so pink, you won't even need a filter.
I'm not sure how all of these national holidays started popping up on the calendar, but they are so much fun to participate in. A whole day to serenade yourself in your favorite color sounds like a sweet deal to me. Oh, and in the clothes department, you know you're going to need to show out and prove what being a true pink lover is all about.
Your pics are going to be fire. Get nostalgic and rock an adorable ballerina tulle skirt when you go out with the girls, or get super creative and finish off another one of your looks with a pair of neon pink pumps. With the color pink, there are so many options, and you are more than willing to try them all. You've still got time to plan, so you can capture your favorite color in action. Any of these places would be hue heaven for any pink lover. C'mon now, the 'Gram is waiting.