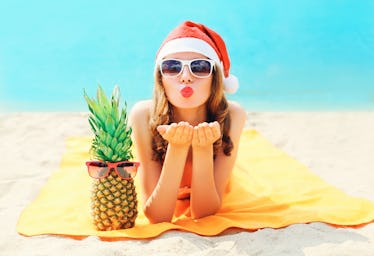 8 Pineapple Christmas Trees That'll Put A Tropical Twist To Your Holiday
When it comes to the holiday season, most of us embrace tradition — whether they're old or new. It's a time when family and friends come together to deck the halls, eat delicious seasonal treats, and drink far too much eggnog and such. (But who's complaining?) One of the biggest parts of Christmas is spending a day picking out the perfect tree at the Christmas tree farm, or assembling an artificial one brought down from the attic. As ornaments add such a personalized touch to the tree, why not switch it up this year and try something new, drawing inspiration from some of the latest pineapple Christmas tree trend? It can be in addition to your favorite tradition, of course.
And how fitting is having a pineapple in your home this time of year? It is known as the "welcome" symbol in the South. It pretty much stands for everything the holiday is about — friendship, warmth, and opening up your home with love. These pineapple babes will certainly bring some sunshine into your seasonal decor. So regardless of the weather outside, inside your home sweet home will feel tropical and bright AF. Whether one of these little dudes is situated on your desk at work, in your bedroom, or as a whimsical centerpiece on your island or dining room table, it's truly a necessity for any beach bum who's trying to cope with any wintertime blues.
Some of these are elaborate, decked-out pineapples, while others are trees decorated to resemble the tropical vibes. So whether you like piña coladas, or getting caught in the snow, happy decorating to all and to all a sweet night.