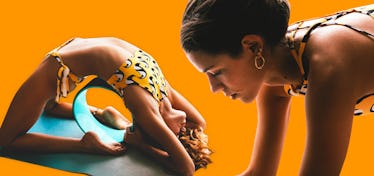 These Pilates Videos For Beginners Will Make You Excited To Roll Out Your Mat
Stocksy
Break out your yoga mat and your fave activewear set, because you're gearing up for a virtual pilates class. Don't fret if you've never taken a class before, because there are plenty of pilates workouts for beginners on YouTube that are great places to start. As a newbie, you might want to ease your way into the pilates world, and an introductory video is a great way to ensure you'll be going at the right pace.
By starting your pilates journey at home, you can find a video that coordinates with your daily exercise goals. For example, if you're looking for something quick and easy that you can do before logging on to work, you might want to try a 10-minute workout. If you want to focus on one area of your body at a time, you may want to choose a video that' specifically meant to work on your abs. The choice is entirely up to you, but this list of eight pilates for beginners videos might make that decision a little easier.
Once you've chosen your video, all that's left for you to do is find a big enough area for you to stretch out. Set up your computer in a good place so you can clearly see it. Then, it's time to press "play" and let the workout begin.