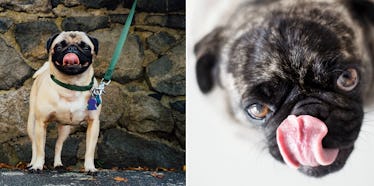 8 Absurdly Cute Pics Of Pugs That'll Make You Want To Hug Your Pup ASAP
Dogs are a gift to this world. They're loyal, loving, and don't take no for an answer when they want you to play with them. As a result, they're guaranteed to make your day so much better, no matter how stressful it's been. That's pretty much all they really want (besides cuddle time and some yummy treats). In my opinion, one of the most precious types of dogs is a pug, which is why you need some pictures of pugs in your life, ASAP.
For as long as I can remember, I've wanted a dog of my own. We have family dogs in my house, who I love with all of my heart, but you can't ever have too many dogs. What I've always wanted is a pug. I think many of us can agree that pugs are seriously the cutest. Maybe it's their tiny little noses, or all of the energy and enthusiasm they hold in their tiny bodies, or maybe it's that they look just a little bit grumpy all the time (I can relate.)
If you're a pug lover, you know what I mean. And lucky you, because these pictures were made for you. These eight pups are living their very best doggo life, and I'm just grateful I get to see them doing so.