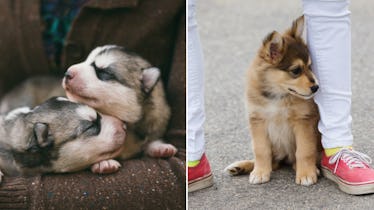 13 Absurdly Sweet Pics Of Husky Pups That'll Make You Want To Cuddle Them So Badly
Looking into the eyes of any fur baby will instantly make you go all mushy. They always have this look of love in their eyes. Plus, they're so flippin' adorable, you just can't get over feeling all the things. But huskies are another category of cuteness altogether. They can have such bright eyes, with the most majestic face — yet still be a total goofball (a goof that you love with all your heart, that is). And as with most dogs, their younger years are honestly the best, and pictures of husky puppies will make your day, your week, and possibly even your whole month.
For one reason or another, you may not have a husky of your own. That's totally OK — because the Internet is a glorious place with an unlimited amount of husky pics and videos to instantly melt over. And who wouldn't want to? When they're little, OMG, they are oh-so-little. Their faces are so sweet and tiny, you just want to reward them with all of the treats. Some have the bluest eyes ever, while others don't. They have tiny legs to go with their tiny bods, but they soon grow up to be big fur-balls of love. Humans don't deserve such amazing animals like the husky, in my opinion — but here are 13 absurdly cute pictures that'll make you instantly fall in love.