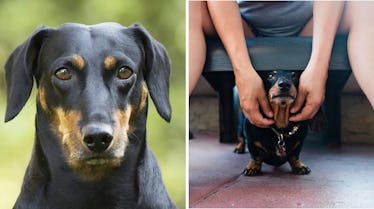 8 Pics Of Dachshunds Who Are Kind Of Cool Cats, Even Though They're Hot Dogs
I know I'm stating the obvious, but can we all agree that dogs of every size are great? Small, big, tall, long, or short, if I see a dog, you know I'm going to obsess over them long after I meet them. They're just so dang lovable. A happy dog will warm up to you, love you, and appreciate you. On a bad day, sometimes all you really need is the presence of an adorable pup to get your spirits lifted and put a smile on your face. These pictures of Dachshunds are for fur baby lovers, and they'll make your entire week.
Maybe not everyone will admit it, but it's kind of true that everyone's thought about owning a Dachshund once or twice in their life. I mean, they're just so cute. Seriously, they're tiny, they're wiggly, and they're the perfect size to cuddle. Not to mention — they're filled with enthusiasm, love, and energy for any kind of plan you want to take them on. What I'm saying is, you can't go wrong in adopting a Dachshund, alright? It's just not possible. But if adopting a dog isn't in your future right now, or you're just here for some sweet dog pics, these eight Dachshunds will keep you hella entertained.