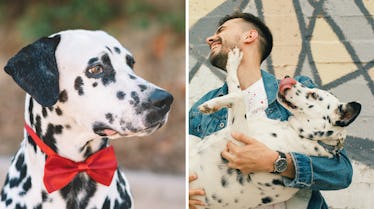 13 Absurdly Cute Dalmatians Who Have Personalities That Are Spot On, Pun Intended
There's something about seeing an adorable Dalmatian that gives me so much nostalgia. I didn't have a Dalmatian as a kid, and no one I knew had one, either. But, when I was growing up, Dalmatians seemed liked the coolest dog you could possibly have. Maybe it's because they were in some of our favorite books, TV shows, and movies (I'm looking at you, 101 Dalmatians). So many of us looked up to these heroic pooches who served as firehouse dogs, ready to step in to save the day. If you're as in love with these dogs as I am, you know that this breed is beyond loyal. Even at a glimpse, pictures of Dalmatians can give you a sense of who they are.
Seriously, there's no arguing that every dog is absolutely incredible in their own special way. They have such unique personalities and characteristics that make us instantly fall head over heels for them. They're loyal to a fault and will love you tremendously. Of course, they never run away from a good belly rub, which, TBH, is comforting for you and them. Dalmatians are no exception. They're adorable, and they're kind of awe-inspiring. I mean, just look at those beautiful spots!
Sometimes, you just need a pup to make your day, and you're not always with your own furry friend. Luckily, a few sassy pup pictures can get the job done. These 13 Dalmatians are bound to make you say "awe" out loud. You've been warned.