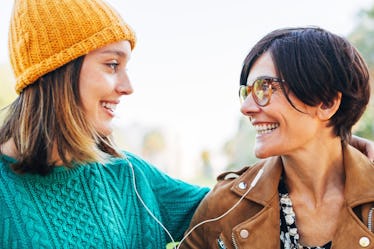 8 Moms Offer Their Wisest Advice On How To Be A Great Girlfriend In Your 20s
Whether you like to admit it or not, your mom is pretty darn knowledgeable. She likely has a wealth of advice to share about 20-something life, including how to handle romantic relationships in your 20s. When it comes to dating, she's been there, done that. She might say it's important for you to learn from your mistakes, but she also wants to help prevent you from getting your heart broken. And if you're too stubborn to take your own moms' advice on how to be a girlfriend, maybe you'll listen to one of these eight wise women. It's true that mother knows best — if only because she's been in your shoes.
This Mother's Day, consider asking your mom or your mother figure for her best pieces of dating advice. It's far too easy to take her for granted, so take this opportunity to let her know how much you appreciate her and respect her opinion. She'll love telling you all the stories she couldn't share when you were younger, but more than that, she'll be touched that you asked in the first place. Here's what eight different moms have to say to their daughters (and other young women) about being a girlfriend in your 20s.