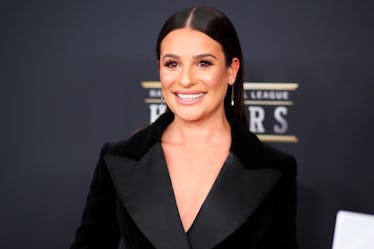 Lea Michele Says The Wisest Things That Will Make You Believe In Love Again
Christopher Polk/Getty Images Entertainment/Getty Images
I don't know about you, but I've always been a sucker for a great happily ever after. Especially when the person getting the happily ever after really deserves it. For example, actress Lea Michele may have had plenty of romances on screen, but she's finally managed to find her own fairytale ending with now-fiance, Zandy Reich and I could not be happier for her. Now, I can't say that I know her personally but just taking a look at Lea Michele's quotes about love over the years proves just how much she deserves the presence of it in her own life.
For those of you who haven't followed Michele's personal life closely, her journey towards finally finding everlasting love with Reich wasn't the easiest one. Before she started dating Reich (who, according to sources, had been a friend of hers for years), Michele dated her Glee co-star Cory Monteith from 2012 until his death in 2013. But it looks like things are finally looking up for her. Just last week, Michele announced on Instagram that she's officially engaged to Reich, the president of clothing company AYR.
Before Michele got her happily ever after, she already had plenty of wise words to share with the world about love.