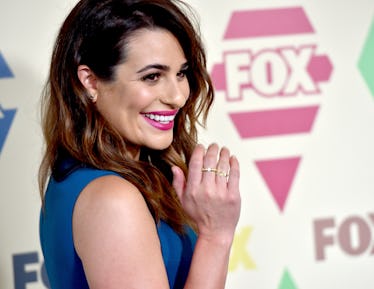 4 Jewelers Analyze What Lea Michele's Engagement Ring Says About Her Relationship
Glee alum, Lea Michele, 31, announced her engagement to boyfriend Zandy Reich yesterday on Instagram. In the post, she featured a picture of her left hand covering her face with a gorgeous rock adorning her ring finger. She made the caption as simple as possible with just a "yes" followed by the diamond ring emoji. So, needless to say, we had no choice but to pay a little extra attention to just how fantastic that rock really was. You see, my friends, Lea Michele's engagement ring from Zandy Reich is no simple ring you can pick up from your local mall jewelry store.
No, instead, PEOPLE reports that Reich, who is the president of a clothing company called AYR, personally designed the ring for his one true love with the help of designer Leor Yerushalmi and The Jewelers of Las Vegas. Christina Gandia Gambale, a co-owner of Greenwich Street Jewelers, sees a lot of customs designs at her store in New York City. "One of the main reasons why grooms have decided to go this route is because while a pre-designed ring can have a lot of wonderful features to it, we find that there's always gonna be some little tweak that he's gonna want to incorporate," she explains. "His own idea or his own thought to kind of make it specifically for his bride-to-be so, most often, it's what they find to be a little bit of their own personality or a little bit of spin that bride has to be really truly one-of-a-kind."
The ring you see adorning Michele's finger is referred to as an elongated radiant cut. According to Laurie Sarah, owner and designer at Laurie Sarah Designs, "Radiant cut is very trendy right now. It's rectangular cut sits very nicely on any finger, and its facets make the flash of the diamond just pop! Adding the single halo around it gives it even more shine. It's simple, yet makes a big statement."
While Gambale believes the most popular shape right now is actually the oval, she does agree that longer shapes such as the radiant are gaining popularity. "I love the fact that he chose the radiant," she adds. "A longer radiant like that is a very rare diamond to come by. The cut of it and to yield that sort of sparkle is just not that common. [The fact] that he designed something custom and really chose a rare style and cut and size diamond says a lot."
So how big is the ring, exactly? According to PEOPLE it is a whopping four carats... which, in case you were wondering, is way bigger than the average ring. "Four carats is far above average for an engagement ring," explains Jack Danziger, of Jack + G Studio. "Average center stone size being around one carat and the total carat weight with pavé or side stones being closer to two carats."
"I would call this a red carpet ring," echoes Andrea Lipsky-Karasz, designer of Tilda Biehn Fine Jewelry. "Most people wouldn't be comfortable in a four-carat ring everyday. That's a lot of rock... Luckily she has lots of red carpet events to wear it to!"
Thinking of snagging your own custom four-carat elongated radiant cut ring to pop the question to your BAE? Well, you better start saving. Gambale estimates Michele's ring cost Reich "between $200,000 to $300,000." Wow.
Congrats to the happy couple!
Check out the "Best of Elite Daily" stream in the Bustle App for more stories just like this!