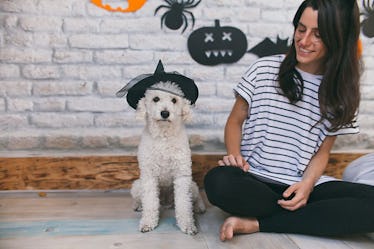 8 Lazy Halloween Costumes For Adults Who Can't Be Bothered To Plan Ahead This Year
It seems like every year, Halloween arrives a little bit sooner than it did the year before. It's hard to take time to make a truly unique costume when you're an adult. You're too busy trying to figure out how to link your checking and savings accounts without accidentally becoming complicit in your own identity theft. There's simply no time to buy a fancy sewing machine and throw something together, and besides, you probably just got locked out of your checking account after typing in the wrong pin code 10 times anyway. There's nothing wrong with admitting you're ready to consider some lazy halloween costumes for adults ahead of All Hallows' Eve.
In fact, some of the best Halloween costumes require no prep time at all. All it takes is a little bit of research, a Sharpie or two, and five to 10 minutes of your time. If you don't want to deal at all with creating a homemade costume, there are also some get-ups that require no more than a few mouse clicks, and won't crush your budget, either.
Halloween may be the best holiday of the year (I'm always rooting for Fourth of July, which is basically like summertime Halloween, but I digress), but planning for it should still be a breeze. Here are eight lazy Halloween costumes for adults who simply cannot be bothered to plan ahead this year.