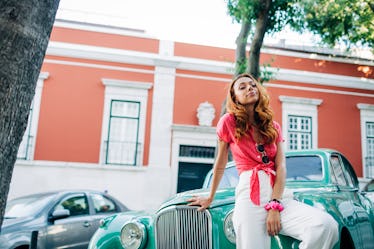 8 Insta Pics To Take With A Vintage Car That Are Undeniably Retro
Westend61/Westend61/Getty Images
If you're already editing your Instagram photos with a vintage filter or a grain effect, then you're ready to roll into a new, yet retro, trend: posing with classic cars. You've leveled up and clearly have the artsy mindset to find Instagram pictures to take with classic cars and bring those ideas to life. Of course, that'll entail wearing an outfit that's so '90s or grabbing your disposable camera before walking out the door.
Although these ideas primarily focus on the concept and composition of a picture, having the right camera by your side will help you channel the decade when the Rolls-Royce or Mercedes was born. The saturated tones of a disposable will make your followers wonder if you time-traveled to a time when bell-bottoms were so in, or tie-dye made its first appearance in stores. Shooting your photos on the vintage Canon FTb your mom has tucked away in her closet might make you feel like you did, even though you were really just down the block.
Gear isn't everything, especially if you have a creative eye or some ideas in your back pocket. But, make the most of what cameras you may have laying around or at least a retro edit when you're putting together these eight IG pics to take with classic cars.