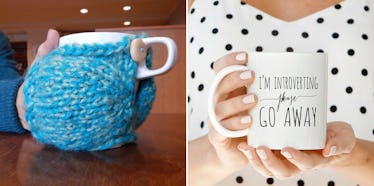 8 Hygge Coffee Mugs Under $20 To Help You Sip Your Way To Happiness This Winter
Etsy
In the dead of winter, the best thing you can do is lock your doors, curl up under the covers, and have a series of hygge weekends so cozy and luxurious that you almost forget the weather forecast calls for negative degrees. Hygge, the Danish term for "cozy," embodies a whole lifestyle that easily explains why Denmark is one of the happiest places in the world. If you're looking to be as content as the Danes seem to be, these hygge coffee mugs under $20 are one small way to make it happen.
Incorporating hygge practices into your life isn't about doing one specific thing. Rather, the lifestyle asks you to focus on doing basically anything that inspires warmth and contentment in your life. As someone who is 100 percent obsessed with coffee, I can say that my favorite hygge activity is curling up with a fantastic cup of my favorite brew on a Sunday morning and reading for a minimum of five hours.
Hygge isn't about spending money or buying specific things, but there are certain products that'll allow you to get your hygge on in the best way possible. These coffee mugs will encourage you to enjoy a lazier, cozier Sunday morning, and if that doesn't scream hygge, nothing does. Here are eight coffee mugs to help you live your most hygge-friendly life.