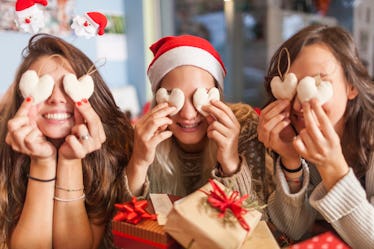 8 Cheap & Fun Holiday Party Ideas For Those Who Are Broke AF This Season
The holiday season is an extremely merry time filled with festive parties, cookie swaps, Secret Santa gift exchanges, and picking out the perfect presents for loved ones. But when your wallet is empty, you might start to feel a little bah humbug about it all. Don't turn into a full-on Scrooge though, because many of us are in the same boat. The struggle is real, and it's a very expensive time. All of us don't necessarily have the cash flowing in to be able to afford a luxurious holiday with a lavish cherry on top. That doesn't mean you can't partake in your very own holiday festivities. You just need to come up with some fun and affordable holiday party ideas for friends who are broke.
You can get creative and thrifty to the point where no one will even notice how little you spent on your holiday party. They'll simply be under the impression that you're a Gatsby. These eight ideas will help to cover all of your bases to accomplish a broke girl's perfect holiday party. Now you can stop stressing out about it, and instead, focus all of your attention on spending time throughout the holiday season with the people you love most in this world. Happy holidays, all.